Janpol
A manufacturer of modern agriculture machines
Janpol
A manufacturer of modern agriculture machines
Sowing disc Cultivator "Simply Max"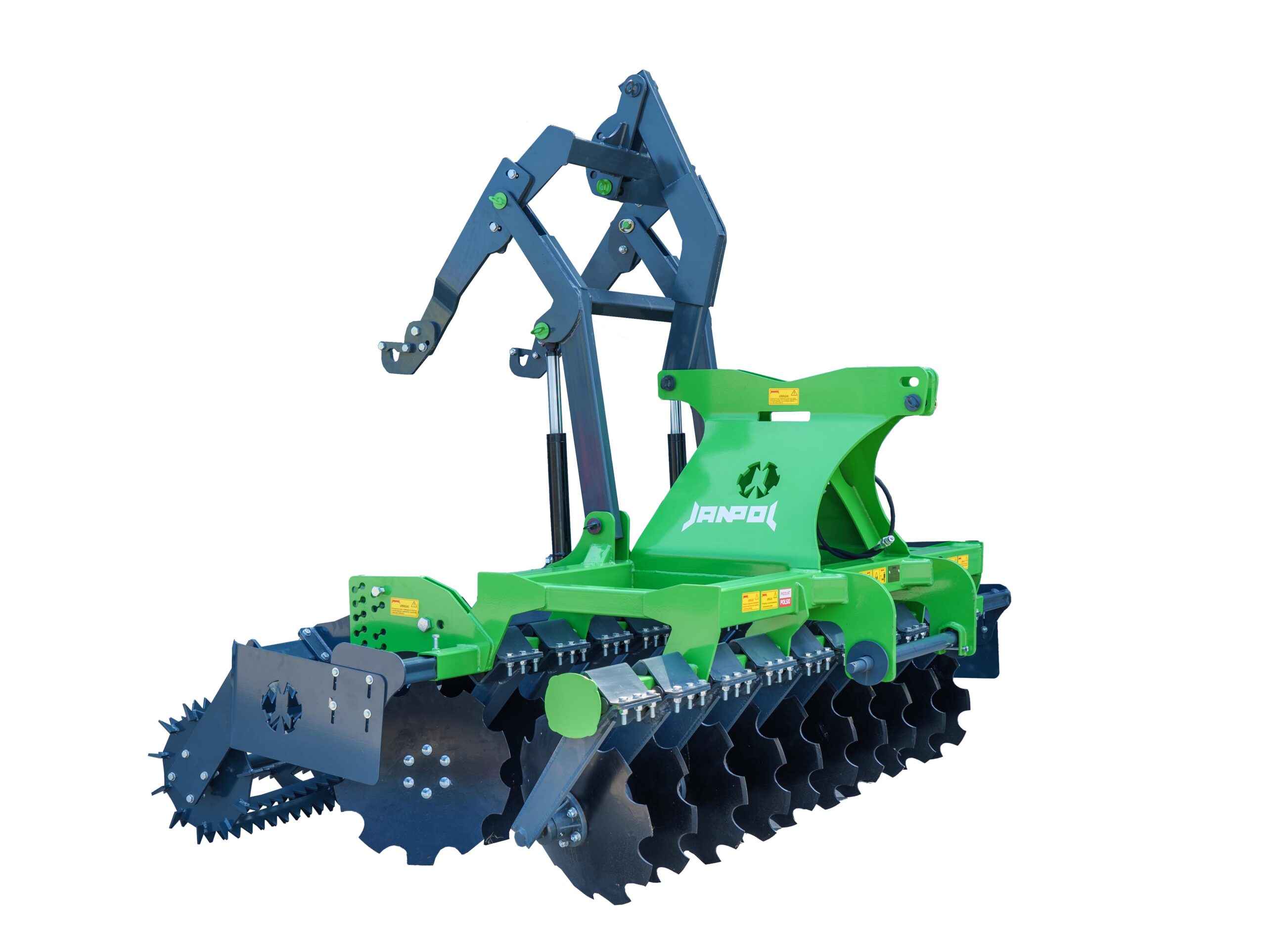 The disc cultivator is a compact, durable and light machine suitable for any field. The machine is a combination of a cultivator and hydropack for aggregation of a cereal seeder. With one pass of the disc cultivator, the user achieves surface mixing (5-12cm) of soil layers, soil compaction by means of the machine's compaction roller, and sowing of cereals. The applied rubber shock absorbers are effective
in preventing damage to discs and hubs during work, as well as in attenuating vibrations of the entire machine under difficult conditions.
A feature that confirms the high standard of our machinery are the hubs, both those requiring and not requiring maintenance. Adjustable side screens prevent earth from spilling outside of the disc sections. A potential buyer can choose from a wide selection of rollers for soil treatment prior to sowing. The disc cultivator fulfills regulations pertaining to machinery in traffic on public roads. The 3.0m version is
enriched with collapsible side discs, which shortens the machine's total outline. The machine is designed on the basis of the "simply" frame! The machine has a category 2 three-point hitch.
Szerokość [m]
2,5
2,7
3,0
Number of discs [pcs.]
20
22
24

Power demand [hp]

WEIGHT [kg]

Performance ha/h

80-95

1000

1,8-2,6

85-100

1050

2,2-2,7

90-110

1100

2,5-3,2
Standard Equipment 
• 560 mm discs,
• Reinforced actuators with 1200kg lifting capacity,
• Floating side screen,
• Hydropack, 900 kg lifting capacity,
• Shaft regulation on pull rods,
• Lighting.
Optional Equipment
Maintenance-free hub SKF
500mm U-Profile Roller
3rd row of tines
500mm C-Profile Roller
500mm Packer Rear Roller
Check Out Others
Janpol machines
Contact information
Janpol Krzysztof Jankowski
ul. Łomżyńska 33
18-312 Rutki – Kossaki
NIP: 723-137-06-57
Sales department
+48 505 732 809
Service and parts department
+48 509 955 085
Opening hours
Pn – Piątek: 07:00 – 18:00