Janpol
A manufacturer of modern agriculture machines
Janpol
A manufacturer of modern agriculture machines
Fertilizer Spreader Single-Chute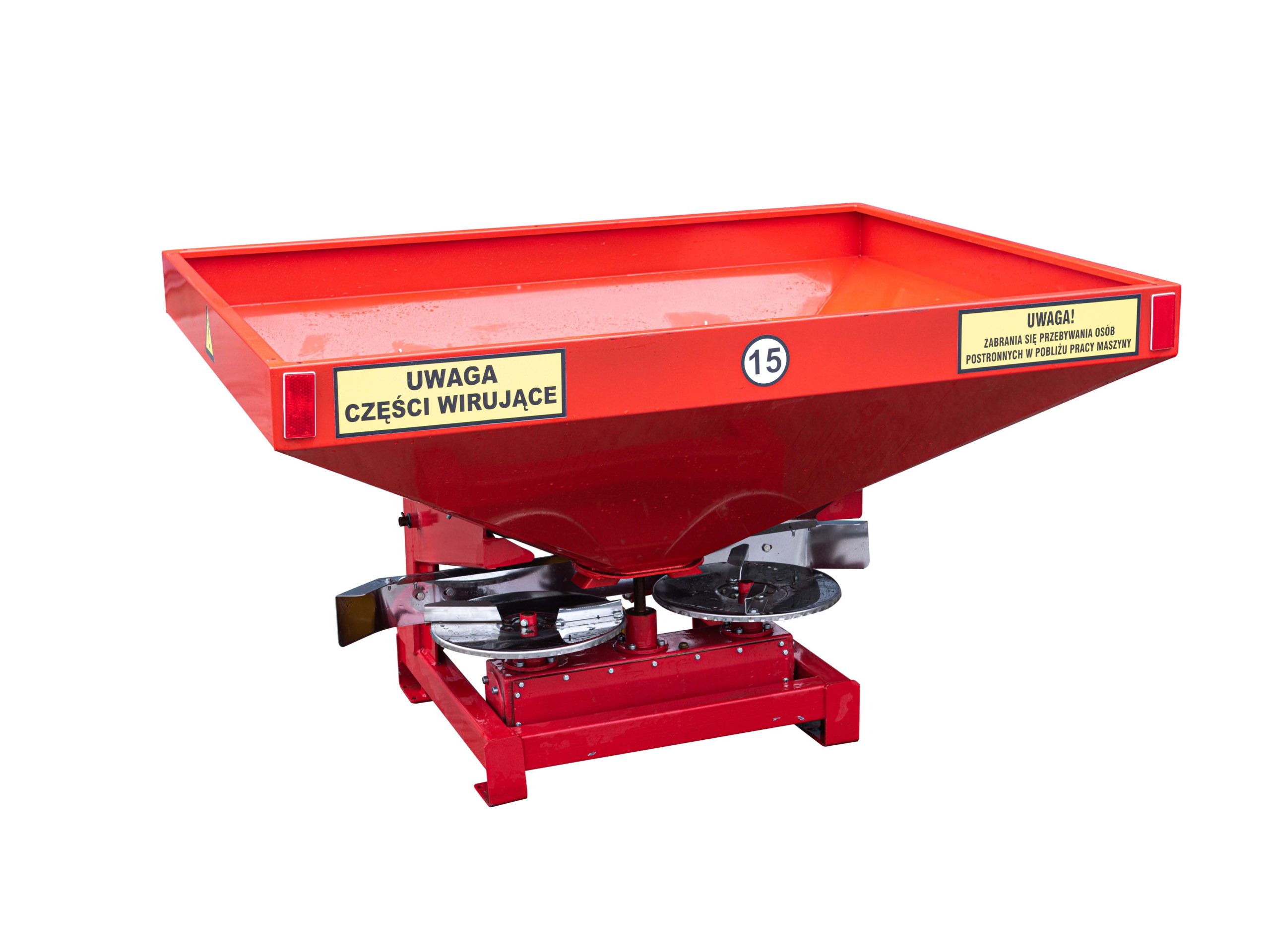 Machine Description
Intended for surface spreading of loose materials, i.e. mineral, granulated fertilizers on cultivated fields, pastures, meadows or stubble.
The machine's light and durable construction allows for total utilization of its loading capacity.
The spreader's conical cargo box is available in powder-painted and galvanized versions.
The single-chute design of the spreader's charging hopper allows for spreading of the hopper's entire contents without the user's interference.
The machine's working components are made of high-quality acid-resistant parts, affording many years of protectionagainst corrosion.
The hydraulic cylinder applied in the machine allows for convenient opening and closing of fertilizer dumping hatches, without the need to leave the operator's position.
The mechanism transferring power to working components is an 'Rauch'-type steel transmission with 540 rpm, applying fertilizer onto the surface of spreading evenly and optimally. The transmission has a low-speed mixer, preventing the formation of "fertilizer flour" at the bottom of the charging hopper.
The spreading width of 8-18m is suitable for any acreage, regardless of its surface area.
The charging hopper is enriched by a mesh that breaks up clumped fertilizer.
Technical Data
Capacity [l]
800
1000
1200
1500
Weight [kg]
200
210
220
240
Dimensions [m]
width/length/height
1,75/1,35/0,9
1,75/1,35/1,02
1,75/1,35/1,15
1,75/1,35/1,4
Standard Equipment
"BOX"-type cast iron transmission, equipped with a low-speed mixer,
Two spreading disks, four blades,
Manual and hydraulic opening,
Mesh for crushing clumped fertilizer inside hopper,
8-18 m spreading width.
Optional Equipment
1725×1400 tarpaulin
PTO shaft with overload coupling
Check Out Others
Janpol machines
Contact information
Janpol Krzysztof Jankowski
ul. Łomżyńska 33
18-312 Rutki – Kossaki
NIP: 723-137-06-57
Sales department
+48 505 732 809
Service and parts department
+48 509 955 085
Opening hours
Pn – Piątek: 07:00 – 18:00